This time of year – and any time of year really – I hope you remember to GIVE!
Ah, I love some good deal shopping. A skill/habit I picked up many years ago, but still enjoy to this day. The deals as I used to know them are quite few and far between. That's OK. I don't have as much time to devote to deal shopping as I used to. My life has evolved. These days, I'm really enjoying deal shopping at Ocean State Job Lot of all places. Who would have guessed? 
One of the things I really like about Job Lot is their commitment to the community and level of giving they do. They do this both through their donations to local programs, as well as giving back to their customers via their Crazy Deals gift cards. I've been having so much fun with these gift card deals, how could I NOT give back to their programs in-store. I think that was the intent here though. Right now, through December 24th, they are sponsoring "Choose Give Get" – Give $50 to the type of charity you pick, get back a $50 Crazy Deals gift card. If I decide I have more shopping to do, you can bet I'll be taking advantage of that deal again. 
That wasn't the focus of this blog entry though. I actually wanted to write about an experience I had at one of their stores today. I was out shopping for some Christmas gifts, but I had just one item I wanted for myself: a plush king size blanket they had on sale for $9.99. The first Job Lot I went to had a horrible color selection: dark pink, light pink, white. Nothing at all close to what I was hoping to find. I did buy a few other things there and as I often do, I donated $5 to their food bank collection when they asked. On a whim, I drove to another Job Lot. I hadn't been to this particular location before – a much smaller store than I was used to! I was worried their selection of blankets wouldn't be great. Ah, but then I saw it…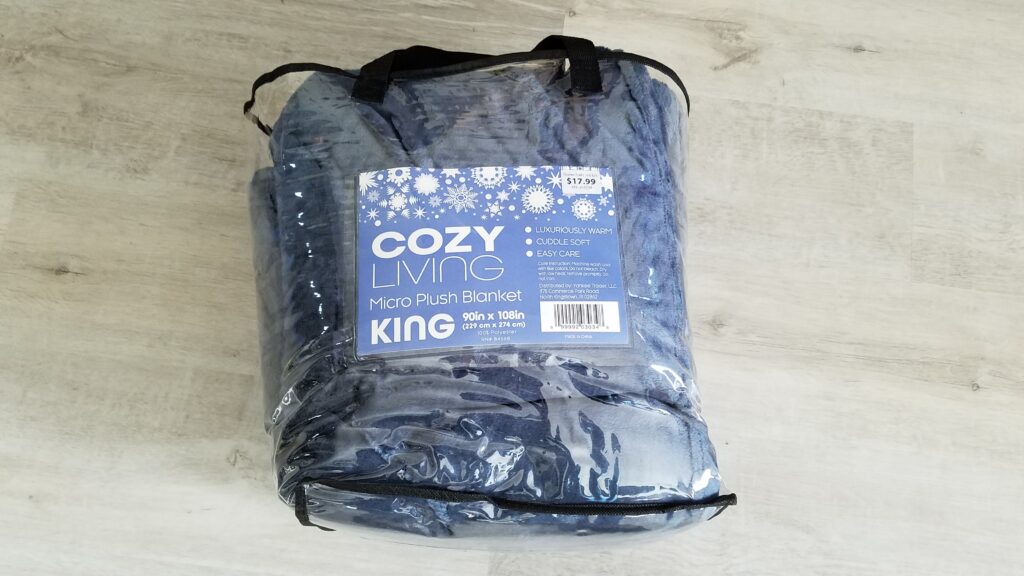 A beautiful shade of navy blue, lovely SOFT blanket. Perfect!! Off to the register I headed with my prize. As I waited in line, I noticed the cashier asking folks if they wanted to donate $1 to the food bank. I thought that was odd as all the other stores asked you how much you wanted to donate. Asking for $1 seemed quite limiting to me, but perhaps I wasn't in a very affluent area. I was having a wonderful weekend, so $1 wasn't going to cut it for me.
When the cashier asked if I would like to donate a dollar to the food bank, I looked it him and said "I'll give you FIVE!" Based on his reaction, you'd have thought I offered a lot more than that! He was a bit surprised, expressed much gratitude for my donation, wished me a wonderful rest of the day and "God bless you!" 
Wow. FIVE dollars. It doesn't take much to make an impact you know. It doesn't even take FIVE dollars. What's important is that we step up and help out when we are able to. Whether we donate money, time, knowledge – it doesn't matter. What matters is that we GIVE. Give now at the giving time of year, but most importantly – give ALL year!