Stop trying to DO things to make it happen, and start BEING that person. – Jim Fortin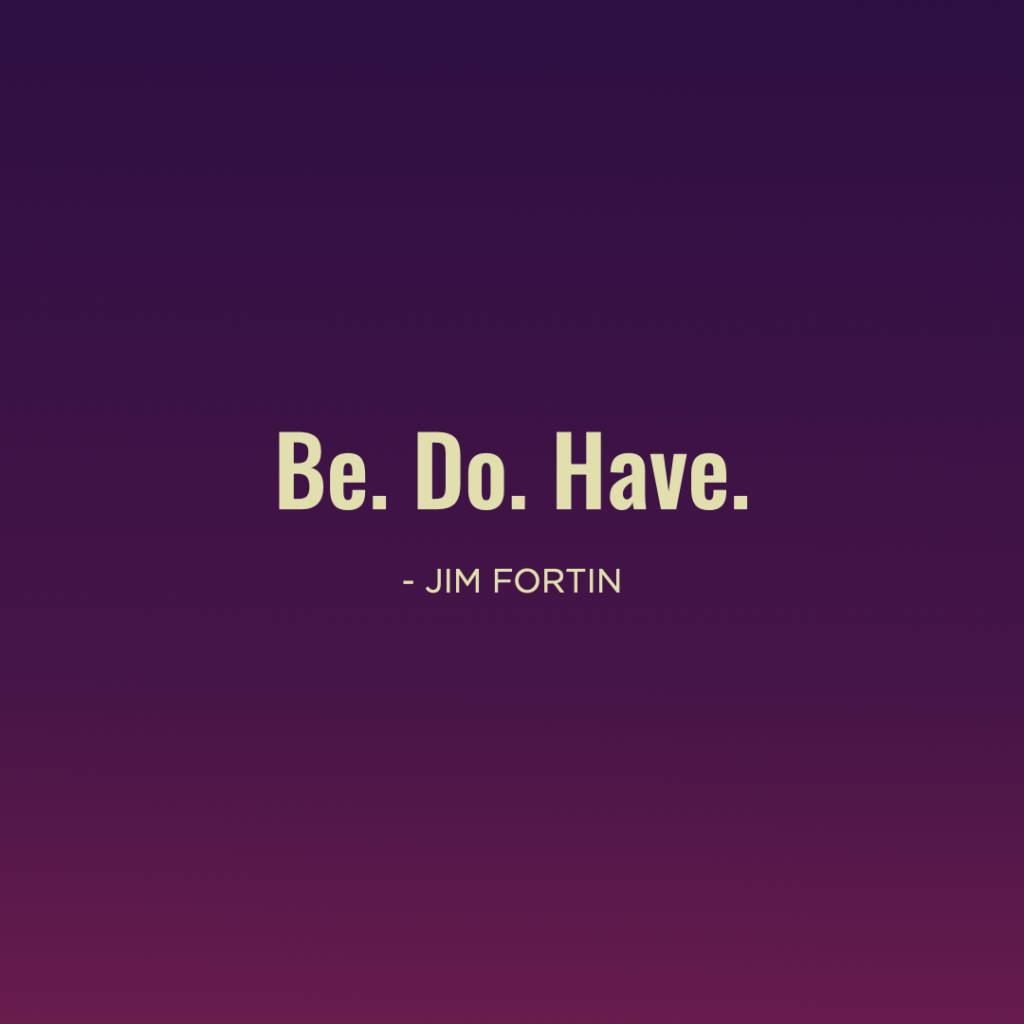 *This post contains affiliate links. This means I may earn a commission if you follow the link. The opinions here are my own.*
In September of 2019, I was very much pushed past my limits. My mother was just coming to the end of her cancer treatments for lung cancer (diagnosed Dec. 2018). She had gone through surgery to remove part of her left lung, chemo, and radiation. As you can imagine – she was unable to work. This left quite an emotional and financial toll on me. Add in my full time job and all the other aspects of my own life and… ENOUGH ALREADY!!! I just couldn't take any more thrown at me!
I filled all my time with whatever content I could pump into my brain. What else was I supposed to do to distract myself from everything? I bounced from small courses to podcasts and just went about my days as best I could. Until… that one fateful day where I listened to the RIGHT podcast that sent my life spiraling down the path that I very much NEEDED to be on!
I had been working my way through James Wedmore's podcast and picking up tidbits of information here and there. One day, on my drive to the office, I just happened across an old podcast interview with some guy named Jim Fortin. I had never heard of him before, but what he said absolutely blew me away! Concepts unlike ANYTHING I had ever heard before in all my listening. Who IS this guy?!? I NEEDED to know more!
When I got to the office, I immediately started researching this Jim Fortin guy. I found out that he had a current challenge on Facebook: Be Do Have: Transform Your Life From The Inside Out. I needed to know what this was about, so I immediately signed up. The challenge was already on day 2, so I caught up on day 1 and dove into day 2. MIND BLOWN! I ran over to my coworker's desk and said "I don't know what this guy is selling or what it costs, but I WANT IN!"
The wait for day 3 seemed like it took FOREVER, but I didn't even hesitate to sign up for TCP (Jim Fortin's Transformational Coaching Program) the second I received the signup link. That was easily the BEST decision I have ever made for myself – but don't take MY word for it. Go check out his content and see for yourself?
Ask yourself: are you 100% satisfied with all aspects of your life right now? I sure wasn't! Am I now? No, but I am better equipped to handle what life throws at me. I CHOOSE how to respond, instead of reacting, and that has made a whole world of difference in my life. We all face challenges in our lives and it's our choice how to deal with them. I'm much calmer dealing with my mother now. I'm much calmer in general. That is worth so much!
Another thing I have gained from TCP is CONNECTION. That's a subject I will be talking more on in the coming months, but wow I did NOT understand how to connect with other people. It's something I've always tried to find in life and I couldn't understand why I was unable to connect with anyone. Believe it or not – that was all on ME! Now that I'm starting to show up, BE ME, and put myself out there, I am attracting my tribe. That alone has been quite an interesting adventure.
So what do you have to lose by checking out the Be Do Have training? It's absolutely FREE. Don't you deserve to give yourself that chance of seeing how your life could be, perhaps, just a little bit better? Ask yourself: where will I be 6 months from now, a year from now, if I don't make some sort of investment in ME? Do yourself a favor this week and get yourself signed up for the FREE training that starts March 4th.
I have been through TCP three times now and I'm very excited to start on my FOURTH round! People repeat this course because it IS a journey. Growth is constant and it helps having the support along the way. Reach out and let me know how I can help you on your journey.